Privacy Policy
Effective Date: February 1, 2022
This Privacy Policy explains how Regional Economic Models, Inc. ("REMI" or "we") collects personal information through our website at https://www.remi.com/ ("Website"), and when you provide us your information by telephone or email, at an in-person event or otherwise engage with us.
INFORMATION WE COLLECT AND HOW WE COLLECT IT
Information you provide to us
Certain parts of our Website may ask that you voluntarily provide us with personal information. For example, we may ask you to provide us your name, address, telephone number or email address and contact preferences when you contact us through the Website. If you choose to correspond with us through email, in person or by telephone, we collect and retain other information that you give us, such as your name and business contact information, content of your email message and our response.
When you apply for a job with REMI through https://www.remi.com/careers/ or through third-party services, such as LinkedIn or JOE (Job Opportunities for Economists), we collect the employment-related information you submit to us or make available to us through third-party services, such as job preferences, work history, and similar information provided in your application.
Information we collect automatically
When you interact with our Website, we may collect certain information automatically. Some of this automatically-collected information is personal information under certain laws. The information we collect automatically includes your IP address, browser and operating system information, clickstream data (referring website address, web pages visited and time and date of visit, links clicked), device type and ID, language and other technical information.
HOW WE USE PERSONAL INFORMATION
We use the information that we collect on or through the Website:
• To respond to your requests or provide you with information that you request;
• To communicate with you about our products and other information that we think you will find valuable. You may notify us at any time if you do not wish to receive these emails by contacting us at info@remi.com or clicking the "unsubscribe" link in our emails.
• To maintain our Website and tailor our Website to your needs;
• For data analysis, such as identifying usage trends, determining the effectiveness of our marketing and to enhance, customize and improve our Website;]
• To comply with and enforce applicable legal requirements; and
• To prevent, detect, identify, investigate, respond and protect against potential or actual claims, liabilities, prohibited behavior and criminal activity.
HOW WE DISCLOSE PERSONAL INFORMATION
We disclose your personal information to:
• our vendors and business partners that or who provide data processing services to us, such as services that provide functionality on the Website or enhance the security of our Website;
• an actual or proposed acquirer (and its agents and advisers) in connection with any proposed purchase, investment, merger or acquisition of all or any part of our business. We will use our best efforts to ensure that the acquirer processes your personal information only for the purposes disclosed in this Privacy Policy; and
• any other person or entity with your consent where required or otherwise as permitted by applicable law.
We also may disclose personal information to any competent law enforcement body, regulatory, government agency, court or other third party if we determine disclosure is necessary (i) as a matter of applicable law or regulation, (ii) to exercise, establish or defend our legal rights or (iii) to protect your vital interests or those of any other person.
HOW WE PROTECT AND RETAIN INFORMATION
We use technical, physical and administrative safeguards intended to protect the personal information that we collect from and about you through the Website. Our safeguards are designed to provide a level of security appropriate to the risk of processing your personal information and include (as applicable) measures to ensure the ongoing confidentiality, integrity, availability and resilience of processing systems and a procedure for regularly testing, assessing and evaluating the effectiveness of technical and organizational measures for ensuring the security of the processing of personal information.
We retain personal information that we collect through the Website for as long as we have a legitimate business need to do so and, when we no longer have a legitimate business need, we dispose of personal information in accordance with applicable law.
HOW WE USE COOKIES ON THE WEBSITE
The Website uses cookies, pixel tags (also known as web beacons, flash cookies and clear GIFs) and similar data collection technology.
A cookie is a small data file that contains a unique identification number that is stored in your web browser when you surf the Internet. Cookies set by us are called "first party cookies." First-party cookies enable us to track how often people are using the Website, the specific pages visited and similar actions. Cookies set by other parties are called "third-party cookies." Third-party cookies enable certain features such as social media, advertising, interactive content and analytics. The parties that set third-party cookies can recognize your browser or device both when it visits the Website and when it visits other websites.
Some cookies – known as "essential" cookies – are required for technical reasons in order for the Website to operate. Other cookies improve your experience of websites or are used to infer ads that are most relevant to you and target those ads to you. Generally, the information collected through cookies and other data collection technology does not directly identify you but may be aggregated with other data to indirectly identify you.
Other cookies enable us and our third-party service and advertising partners to improve your experience of the Website and to infer ads that are most relevant to you and target those ads to you. That is, when you surf the Internet, you may see different kinds of ads, such as ads next to search results. Sometimes, these ads are based on the content of the pages on which they appear and sometimes these ads are generated by matching the particular ad to your interests as inferred from your online activities collected over time.
Generally, the information collected through data collection technology does not directly identify you to us and is aggregated with other data to create advertising segments. If you are no longer interested in receiving interest-based ads, you can opt-out by visiting Ad Choices (US) at https://youradchoices.com/.
We also use Google Analytics, which collects aggregate information about use of the Website and reports website usage trends to us. Google Analytics does not directly identify individual users. You can learn about Google's practices at https://safety.google/privacy/privacy-controls/. You can also download a browser add-on at https://tools.google.com/dlpage/gaoptout.
You can set your web browser to reject cookies. You do not need to have cookies turned on to use the Website. You may, however, find that some areas of the Website are slower or do not function at all if cookies are disabled. To learn more about cookies generally, visit http://www.allaboutcookies.org.
Most web browsers incorporate a "Do Not Track" ("DNT") or similar feature that signals to websites that a user does not want to have his or her online activity and behavior tracked. If a website that responds to a particular DNT signal receives the DNT signal, the browser blocks that website from collecting certain personal information about the browser's user. Not all browsers offer a DNT option and DNT signals are not yet uniform. For this reason, many website operators, including REMI, do not respond to DNT signals.
CHOICES ABOUT YOUR PERSONAL INFORMATION
If you receive marketing emails from us, you can opt out at any time by clicking the opt-out or unsubscribe link in the marketing email. Once you opt out, we will no longer send you marketing emails but still may send you emails with transactional information.
USE OF THE WEBSITE FROM OUTSIDE THE U.S.
[The Website is hosted in the U.S. If you are using the Website from outside the U.S., please be aware that your information may be transferred to, stored and processed in the U.S. U.S. privacy and other laws might not be as protective of certain rights as the laws in your place of residence. In the U.S., your information may be subject to access requests from U.S. government agencies, courts, or law enforcement. By using the Website, you acknowledge and consent to the transfer of your information to our facilities and to the facilities of those third parties with whom we share it as described in this Privacy Policy.Confirm – Please note that the Website is directed to the U.S. and is not intended for use by individuals outside the U.S.
If you are located in a jurisdiction with data protection laws that you believe offer you privacy rights not described in this Privacy Policy, please contact us at info@remi.com.
CALIFORNIA PRIVACY NOTICE
The California Consumer Privacy Act of 2018 ("CCPA") offers residents of the State of California – referred to as "consumers" in CCPA – certain privacy rights with respect to their personal information. This California Privacy Notice describes the privacy rights available to California Consumers and how to exercise them.
In CCPA, "personal information" means information that identifies, relates to, describes, is capable of being associated with or could reasonably be linked, directly or indirectly, with a particular California Consumer or household.
If you are a California Consumer, then CCPA offers the following rights:
• You have the right to request information about the personal information that we collected about you (see table below) and how and why we collect it.
• You have the right to opt out of REMI's sale of your personal information when and if REMI sells your personal information. In CCPA, "sale" means transferring or making available personal information to third parties for monetary or other valuable consideration. WE DO NOT SELL PERSONAL INFORMATION.
• You have the right to request information about our disclosure for business purposes of your personal information to third parties.
• You have the right to request the deletion of your personal information.
• You have the right to not be discriminated against for exercising any of these rights.
PLEASE NOTE THAT PERSONAL INFORMATION COLLECTED IN B2B TRANSACTIONS IS EXEMPT FROM MOST OF CCPA'S REQUIREMENTS UNTIL JANUARY 1, 2023. Accordingly, since REMI is a B2B business, the rights described above may not currently apply.
The following table lists categories of personal information that generally match the categories in the definition of personal information in CCPA. We indicate for each listed category the specific types of personal information in the category that we have collected within the past 12 months. We use all of the personal information that we collect for the purposes described in this Privacy Policy and table below.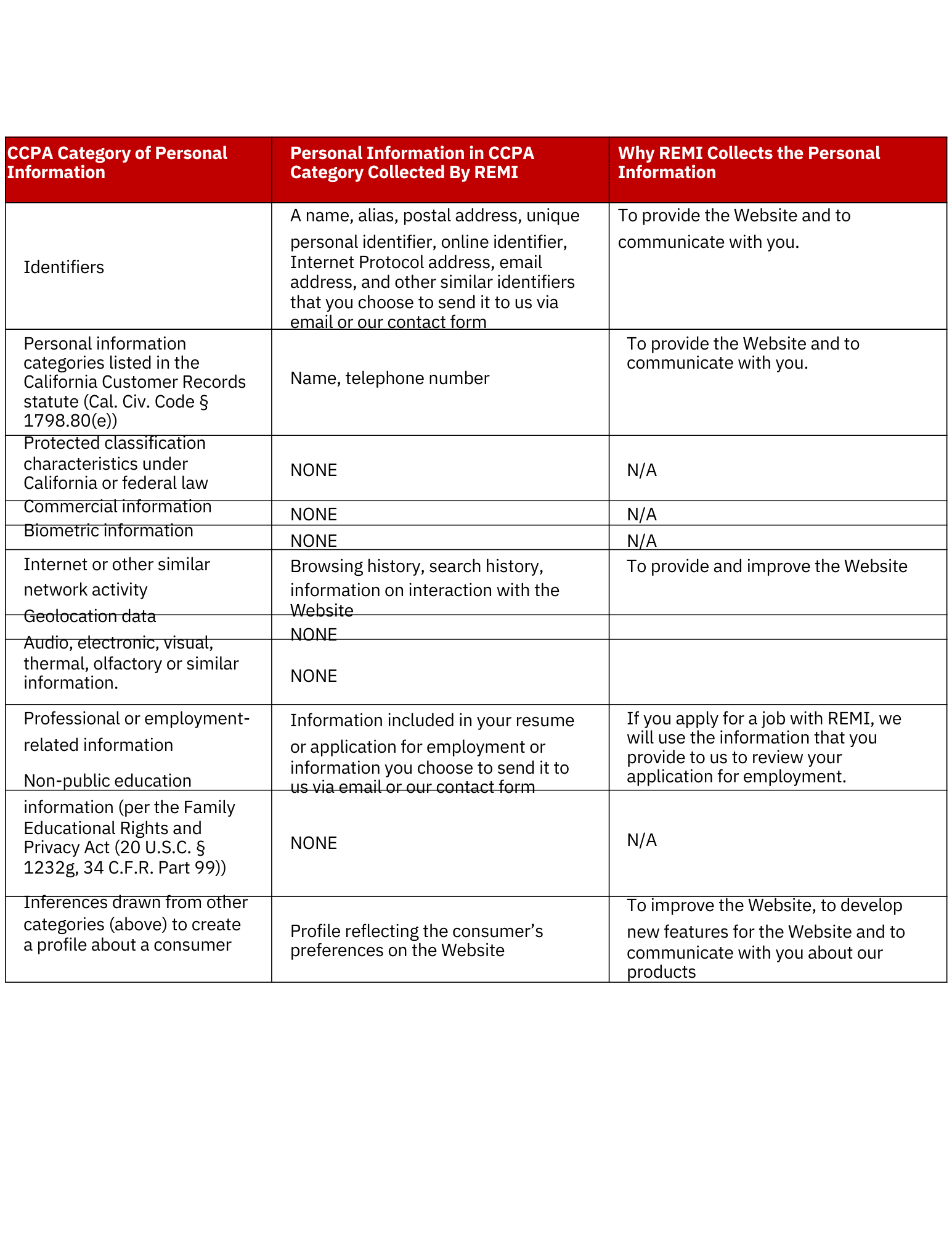 A different California law permits California residents to request a notice disclosing theinformation about categories of personal information about you that we have shared with third parties for their direct marketing purposes during the preceding calendar year. Pursuant to Section 1738 of the California Civil Code, residents of California have the right to request from REMI the types of personal information that REMI shares with third parties for their direct marketing purposes and the identities of the third parties with whom REMI has shared personal information during the immediately preceding calendar year.
To make a request for the information described above, please contact Regional Economic Models, Inc., 433 West Street, Amherst, MA 01002, or email info@remi.com.
[Confirm: We do not share with third parties for their direct marketing purposes any of the personal information about you that we collect.]
If you would like more information about the personal information that you have previously provided to us, please send an email info@remi.com. We will comply with your request as soon as reasonably practicable and within the time periods required by applicable law. For your protection, we may need to verify your identity before responding.
LINKS TO OTHER WEBSITES
The Website may include links to third-party websites and online services that are not operated by us. When you use a third-party website or service linked to the Website, you are subject to that third party's privacy practices and policies, not ours. This Privacy Policy applies only to information collected by REMI through the Website.
CHILDREN'S PRIVACY
The Website is not intended for use by minors (i.e., a child under the age of majority in a particular jurisdiction). REMI does not knowingly collect personal information from minors. Consistent with the requirements of applicable law, if we learn that a minor has improperly provided us with personal information, we will use that information only to respond directly to that minor (or his or her parent or legal guardian) to inform the minor that he or she cannot use the Website and subsequently will delete that information.
UPDATES TO THIS PRIVACY POLICY
We may update this Privacy Policy from time to time in response to changing legal, technical or business developments. When we update our Privacy Policy, we will post the updated version and change the Effective Date above. If we make material changes that affect your privacy rights, we also will take appropriate measures to inform you in advance so that you have an opportunity to review the revised Privacy Policy before it becomes effective.
QUESTIONS?
If you have any questions about this Privacy Policy, please contact us by email at info@remi.com or by mail at:
Regional Economic Models, Inc.
433 West Street
Amherst, MA 01002