October 27, 2021
Regional Economic Models, Inc.
Quarterly Brief: Q3 2021
36th Annual REMI Users' Conference
Last week, REMI had the pleasure of hosting the 2021 Annual Users' Conference, "Progress and Prosperity: Guiding Policy through Uncharted Waters" in St. Pete Beach, Florida! During the conference, speakers shared their insights on various vital subjects, from energy and resiliency to infrastructure and regional economic development. For your information, you can find all of the presentations by clicking here.
We appreciate our clients' interest in our event and look forward to seeing you next year in the conference location selected by the 2021 conference attendees, Memphis, Tennessee! We are already planning for what we anticipate will be another exciting event! Stay tuned for details about next year's conference.
Client Spotlight:
Luis Nieves-Ruiz, East Central Florida Regional Planning Council
Luis Nieves-Ruiz serves as Economic Development Manager for the East Central Florida Regional Planning Council, a council of governments located in Orlando, Florida. Luis's areas of expertise include economic impact analysis, health, and regional food systems planning, and industry cluster analysis.
His professional and volunteer work has been recognized by Big Brothers Big Sisters of Central Florida, the Wallace Center at Winrock International, NADO, ULI, Toastmasters International, Next City, and Leadership Florida. Mr. Nieves-Ruiz holds a Master's Degree in Regional Planning from Cornell University and is a member of the American Institute of Certified Planners.
At REMI's 36th Annual Users' Conference, Luis presented "Assessing the Economic Value of Recreational Assets". The presentation uses REMI PI+ to estimate the value of recreation assets and leisure activities. The discussion concludes with an overview of best practices when developing simulation variables and assumptions. You can learn more about Luis' presentation by clicking here.
Pictured: REMI PI+ model esimations of employment contributions of the Wekiva River System by industry

REMI SEI:
Analyzing Policy and Socioeconomic Indicators (SEI)

REMI SEI is the premium modeling solution for evaluating the socioeconomic indicators (SEI) of projects, programs, and policy changes. Decision-makers employ REMI SEI to understand the relationship between public policies in their industry and the varying economic effects across demographic groups.
REMI SEI provides insight into the relationship between
public policy and the varying economic effects across populations including:
– Jobs by Race/Gender
– Regional Disparities by County
– Labor Force by Race/Gender
– Jobs by Education Level
– Income by Quintile
– Inflation Impact by Income
This premium component can be added to any REMI model to fortify your SEI analysis on your local, state, regional, or national economy. Please click here to learn more about REMI SEI capabilities and the benefits of using REMI's economic modeling software.

The industries of economic development that rely on dynamic socioeconomic analysis to influence their policies and practices include:
– Housing and Community Development
– Taxation
– Energy and Environment
– Immigration
– Healthcare and Social Services
– Transportation
– Labor and Workforce Development
– Consulting Firms

Notable REMI SEI Presentations
Understanding Socioeconomic Indicators (SEI) and their Implications for BRAC
Infrastructure and Socioeconomic Indicators (SEI)
Guiding Policy through Economic Modeling:
Socioeconomic Indicators (SEI) and Regional Development

Understanding the Reality of the Net-Zero Emmissions Objective
Nationwide efforts to thwart negative climate impacts motivate the reduction of global greenhouse gas (GHG) emissions by 50% by 2030 and reach net-zero around mid-century. Given the urgency of the matter, a wide variety of countries have agreed to limit warming below 3.6 degrees Fahrenheit. The London School of Economics and Political Science (LSE) describes net-zero as reducing the GHG emissions that cause global warming to zero by balancing the amount released into the atmosphere from sources with the amount removed and stored by carbon sinks. This reduced emissions outcome may also be described as carbon neutrality and sometimes climate neutrality.
World Resources Institute claims the first call to action should be to reduce human-caused emissions (such as those from fossil-fueled vehicles and factories) as close to zero as possible. For example, switching from fossil fuels to renewables, including wind and solar power, to generate electricity is significantly reducing carbon dioxide emissions in many countries. Once human-caused emissions are reduced, carbon removal, which can happen by restoring forests or using direct air capture and storage technology, will diminish all remaining GHG emissions.
Countries and corporations around the globe are promoting their climate credentials by pledging to achieve net-zero emissions or become carbon neutral in the next few decades. Unfortunately, most of these pledges seldom live up to their promises due to complications of the unknowing repercussion of the current technology. Research from the Taskforce on Scaling Voluntary Carbon Markets shows less than 5% of offsets remove carbon dioxide from the atmosphere.
Lancaster University's Duncan McLaren, Ph.D. analyzes the current concerns of net-zero promises. Professor McLaren suggests combining emissions reductions and harmful emissions into a single target of reaching "net-zero" may create problems. These problems could include delayed emissions cuts but also insufficient focus on developing negative emissions technologies. However, most negative emissions technologies are still only prospective technologies and do not exist as large-scale sociotechnical systems ready for deployment. While strategies for reducing emissions are researched, achieving such ambitious strides to become net-zero emission may prove difficult to accomplish. There are industry professionals, such as Professor McLaren, investigating the precise details of cutting emissions.
During the 2021 Annual REMI User' Conference, Stanley McMillen, Ph.D., Visiting Assistant Professor of Economics and Consultant at the University of Connecticut, discussed the economic and fiscal impacts of Connecticut's greenhouse gas reduction strategies.
You can access his full presentation here.

Staff Spotlight:
Guyesha Blackshear, Analyst – Business Development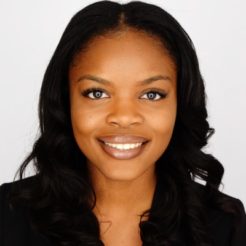 Guyesha Blackshear is a Business Development Analyst at Regional Economic Models, Inc. (REMI). She ensures REMI users are able to effectively incorporate the REMI model into their organizations and support their economic modeling needs. Prior to coming to REMI, Ms. Blackshear worked as a research assistant for a law firm and lobbying group. Guyesha also served as an Implementation Consultant for a technology consulting firm where she performed data analysis and UX research.
Since joining the REMI team, Guyesha has spoken at multiple conferences on behalf of REMI, meets with current and prospective clients across the country, and works regularly with senior staff to improve our economic modeling practices and methodology.
Guyesha earned her Master's in Economics at Georgia State University and her Bachelor's in Economics from Spellman College.


What's Next at REMI?
Guiding Policy through Economic Modeling:
Socioeconomic Indicators (SEI) and Regional Development
On Tuesday, November 2nd, from 2:00 to 3:00 p.m. (ET), we will be hosting "Guiding Policy through Economic Modeling: Socioeconomic Indicators (SEI) and Regional Development." This discussion will provide an overview of "Using Socioeconomic Indicators (SEI) in Regional Economic Modeling," a study that presents the methodology and sample applications for standardized socioeconomic indicators (SEI) that provide metrics for understanding the distributional impacts of public policies.
Register Here!

D.C. Luncheon
REMI will be hosting our monthly luncheon on Thursday, November 16, 2021, from 11am to 1pm (ET) at Metro Center, 700 12th Street, NW, Suite 700, Washington D.C. 20005. We look forward to offering this event free of charge; however, we do ask that you register in advance.
Register Here!

REMI Special Session:
Diversity, Equity, and Inclusion in Regional Economic Development
REMI will be hosting a special session and sponsoring the 68th North American Meeting of the Regional Science Association hosted by NARSC, an international Regional Science organization that promotes the exchange of knowledge, theory, and analysis of regions across the globe. Our session focuses on the socioeconomic implications of regional structures, policies, and futures.
Learn More!

---
Stay Connected with REMI